stockton civic theatre
Audition Announcement for Cat on a Hot Tin Roof
Written by Tennessee Williams
Directed by Dennis Beasley
Audition Date: October 23, 2022
Audition Location: Stockton Civic Theatre (Enter through Lobby Doors)
Callbacks by invitation on October 24
First read through Sunday, November 20th at 6:30pm
No rehearsal on major Holidays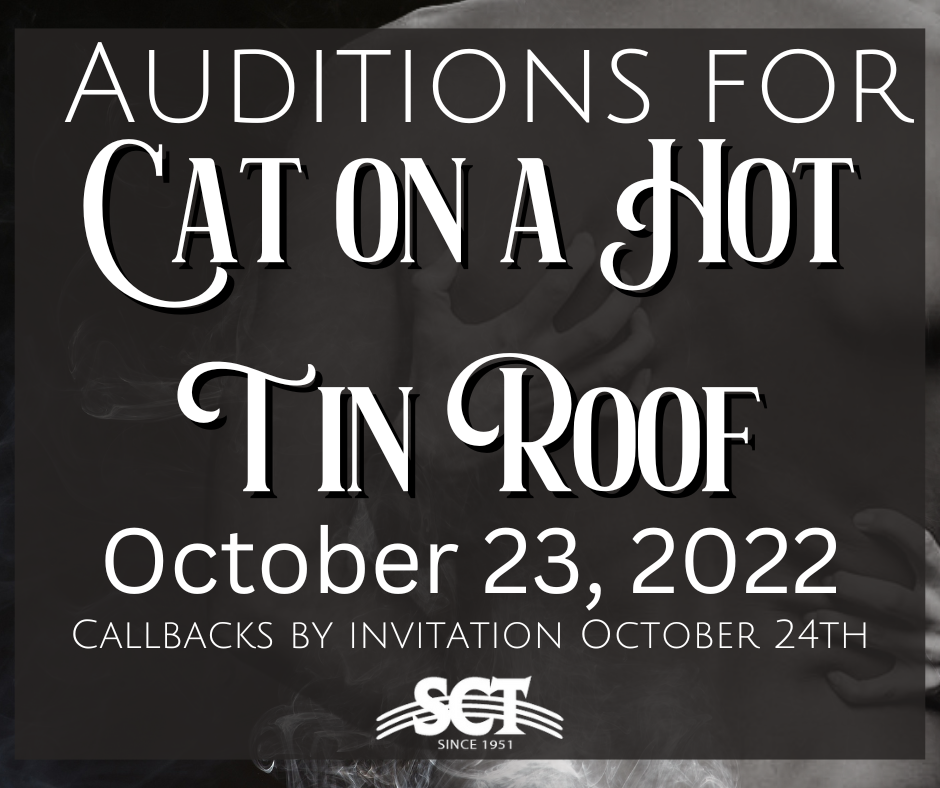 Stockton Civic Theatre is excited to announce auditions for Cat on a Hot Tin Roof, which will perform on the SCT Main Stage January 19-February 5, 2023.
A classic drama set in the lavish southern home of family patriarch "Big Daddy" on the occasion of his 65th birthday, this Pulitzer Prize-winning play is the story of a family imploding under the stress of dark secrets, lies, and yearning for acceptance, love, and the truth. The personal favorite of author Tennessee William's plays, this production will have you feeling the heat of summer even during the winter months.
Adults should sign up for an audition slot and plan to read sides for the character(s) they would like to audition for.
Video Auditions: Video auditions will be accepted in the event that you are unable to attend in-person auditions. Submit a video of yourself performing the sides for the character(s) you would like to audition for and submit to director@sctlivetheatre.com. Callbacks are in person only.
Character Descriptions:
Maggie
The play's cat. Maggie's loneliness and Brick's refusal to make her his desire, has made her hard, nervous, and bitchy. The woman constantly posing in the mirror, Maggie holds the audiences transfixed. The exhilaration of the play lies in the force of the audience's identification with its gorgeous heroine, a woman desperate in her sense of loneliness, who is made all the more beautiful in her envy, longing, and dispossession.
Brick
The favorite son and mourned lover. Brick embodies an almost archetypal masculinity. At the same time, the Brick before us is also an obviously broken man because of his repressed homosexual desire for his dead friend Skipper.
Big Daddy
Brick's father. Daddy is a large, brash, and vulgar plantation millionaire who believes he has returned from the grave. Though his coming death has been quickly repressed, in some sense Daddy has confronted its possibility.
Big Mama
Brick's mother. Sincere, earnest, crude, and bedecked in flashy gems, Mama is a woman embarrassingly dedicated to a man who despises her and in feeble denial of her husband's disgust. She considers Brick her "only son."
Mae
A mean, agitated woman who schemes with her husband Gooper to secure Big Daddy's estate. Mae appears primarily responsible for the burlesques of familial love and devotion that she and the children stage before the grandparents. Please prepare both sides.
Gooper
A successful corporate lawyer. Gooper is Daddy's eldest and least favored son. He deeply resents his parents' love for Brick, viciously relishes in Daddy's illness, and rather ruthlessly plots to secure control of the estate.
Reverend Tooker
A tactless, opportunistic, and hypocritical guest at Big Daddy's birthday party. As Williams indicates, his role is to embody the lie of conventional morality. Same sides for Reverend Tooker and Doc Baugh.
Doctor Baugh
The sober Baugh is Daddy's physician. He delivers Daddy's diagnosis to Big Mama and leaves her with a prescription of morphine.Same sides for Reverend Tooker and Doc Baugh.
If you have any questions, please email director Dennis Beasley at director@sctlivetheatre.com
Below are the sides that will be used during callbacks. Please familiarize yourself with any sides containing the name of the character(s) you were called back for.
Big Daddy, Big Mama, Mae, Preacher, Brick, Gooper
Brick, Big Mama, Mae, Gooper, Doc, Maggie